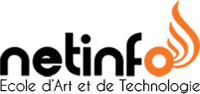 Netinfo is a Tunisian training school founded in 1999 in Nabeul (60km from Tunis) by Mrs. Samia Chelbi and Mr. Sabeur Chelbi. Netinfo provides trainings and certifications in 3D audiovisual, special effects, gaming and web creation www.3dnetinfo.com.
Netinfo can be presented as:
The unique Adobe Training Center in North Africa (Two other centers in Africa: Egypt and South Africa)
The unique Living Lab specialized in Numeric Arts in North Africa (member of European Network of Living Labs)
The unique AUTODESK academic partner in North Africa.
Netinfo is certified ISO 9001 since 2008.
Since 1999, Netinfo has trained almost 4500 students and professionals from Tunisia and 10 other countries mainly African (Algeria, Morocco, Senegal, Ivory Coast, Gabon…). Other students came from European countries (Belgium and France).
SECTOR OF ACTIVITY
Education
AMOUNT INVESTED
217 000 USD
TAEF INVESTMENT TYPE
Acquisition of a minority stake combined to a quasi-equity financing facility.