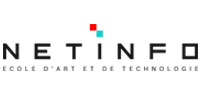 Since 1999, NETINFO is a school of Art and Technology. First training school for 3D computer image in North Africa specialized in the production of 3D computer graphics, animation, 3D audiovisual, special effects, and video games. The school is recognized by the Ministry of Vocational Training and Employment.
NETINFO provides also training for all Adobe and Autodesk products to professionals in the fields of Engineering, Construction, Architecture, Arts, Design, and Video Games, to enable them to update their knowledge and assist them in preparing and passing certification exams.
The school is an Autodesk Academic Partner and Certification Center. NETINFO is certified ISO 9001 since 2008. It is The unique Living Lab specialized in Numeric Arts in North Africa (member of European Network of Living Labs).
SECTOR OF ACTIVITY
Education
AMOUNT INVESTED
217 000 USD
TAEF INVESTMENT TYPE
Acquisition of a minority stake combined to a quasi-equity financing facility.