JIBLY By MONRESTO
Multi-service delivery platform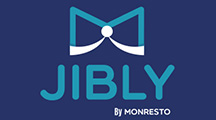 Company Brief
Jibly is a last mile logistics provider for a wide range of industries. The platform is an everything delivery mobile app using advanced technology and logistics to deliver all kinds of products as a B2C and a B2B service.
Product
Jibly is the last mile logistics application composed of different on-demand services. Some of the services include: food, groceries and on-demand delivery for packages.
Target Market
Jibly targets young adults and busy professionals looking for a fast and secure service, companies that look for a reliable courrier service, and businesses that need a delivery service to grow their activity.
Business Model
For B2C users, Jibly collects commissions ranging from 10 to 30% on sales. For on-demand logisitics, the rate is 10 TND for the first 4 km and 1 TND for every additional kilometer. A flat commission is charged on each order for businesses using Jibly's services.
For more information, visit the website:
www.monresto.net